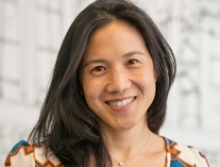 Rosa Lee and Egbert Chang Professor
Senior Scientific Advisor, Positive Psychology Center
Dr. Angela Lee Duckworth is professor of psychology at the University of Pennsylvania. Angela studies non-IQ competencies, including self-control and grit, which predict success both academically and professionally. Her research populations have included West Point cadets, National Spelling Bee finalists, novice teachers, salespeople, and students. Angela received a B.A. in Neurobiology from Harvard in 1992 and, as a Marshall Scholar, a Masters in Neuroscience from Oxford.
She completed her Ph.D. in psychology at the University of Pennsylvania. Prior to her career in research, Angela founded a non-profit summer school for underserved children which won the Better Government Award for the state of Massachusetts and was profiled as a Harvard Kennedy School case study. Angela has also been a McKinsey management consultant and, for five years, a math teacher in the public schools of San Francisco, Philadelphia, and New York City. In 2013, Angela was selected as a MacArthur Fellow.
Book: Grit: The Power of Passion and Perseverance
Dr. Angela Duckworth on CBS This Morning, May 3, 2016
New York Times Article: Putting Grit in Its Place, May 10, 2016, David Brooks Op-Ed
NPR Interview with Dr. Angela Duckworth, RadioTimes, May 6, 2016
Angela Duckworth selected as a 2013 MacArthur Fellow
TED Talk, April 2013: The Key to Success? Grit
National Geographic Article, October 2014: Grit Trumps Talent and IQ: A Story Every Parent (and Educator) Should Read
Big Questions Online, August 2013: Can Perseverance Be Taught?
Profile in the Pennsylvania Gazette, June 2012: Character's Content
Angela Duckworth's Penn Webpage
Angela Duckworth's Lab Website