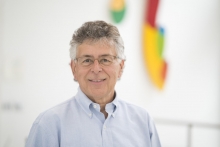 Howard's current area of interest is the intersection of human progress, future-mindedness, technology, media, and the future of learning in the 21st century. His current projects include Kids on Earth (www.kidsonearth.org), which features hundreds of interviews with children and teenagers around the world, and related speeches and articles. Its goal is to foster a connected society where children and teenagers can make friends, study, and communicate with peers around the globe.
Howard is also a Senior Scholar at The University of Virginia's School of Education and Human Development. As the Executive Director of The 21st Century Learning Project, in collaboration with K-12 students and teachers, and researchers, all over the world, he is designing a new 21st century framework for school and learning. It is based upon agency, curiosity, identity, future-mindedness, technology, and a fresh look at the needs of communities and cultures throughout the world.
Previously, Howard created and produced the Peabody and Emmy Award winning PBS children's series, Where in the World Is Carmen Sandiego? He has developed and produced programs for Nickelodeon, MTV, Food Network, History Channel, and other networks. His documentary work includes The Boys of Summer, about the Jackie Robinson Brooklyn Dodgers, and On the Other Side of the Fence, winner of a Gold Medal from the New York International Film Festivals and a special United Nations Award for Public Service.
As a journalist, Howard wrote a popular weekly column for 100+ newspapers distributed by The New York Times Syndicate and United Features. He has written 25 books about media, creativity, U.S. history, popular culture, marketing, business, music, and time travel. Howard has appeared as a guest on over 500 television and radio programs.
As an executive, he has served as a Senior Vice President for a division of Hearst, CDNow, Bertelsmann, and Warner Communications (now Time-Warner), CEO of Independence Public Media, Executive Director of the NJ Public Broadcasting Authority, and President of the NJN Foundation. He has also worked with HarperCollins, The Learning Company, Parker Brothers, LEGO, City Year, WGBH, Merriam-Webster, Lehigh Valley Telecommunications, and several children's software and game companies, and several international start-ups.
Websites:
www.hblumenthal.com
www.kidsonearth.org
www.vimeo.com/kidsonearth
www.reinventing.school
Articles:
Childhood Education: Kids on Earth, A Unique Learning Tool for the 21st Century
Knowledge@Wharton: How the Next Generation of Global Kids Will Learn from One Another
London School of Economics/Parenting for a Digital Future: Kids on Earth Traveling the World to Understand the 21st Century
Visiting Scholar Howard Blumenthal Launches Kids on Earth Initiative
Geneseo to Give Honorary Degrees at 2022 Commencement
Speeches:
Children's Media Association, NYC