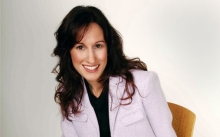 Director of Resilience and Positive Psychology Training Programs
Dr. Reivich is the Director of Training Programs at the University of Pennsylvania Positive Psychology Center. She is the lead curriculum developer and instructor, and trains and supervises all training instructors. She earned a Ph.D. in Psychology from the University of Pennsylvania, and is an instructor in the Penn Master of Applied Positive Psychology program (MAPP).

Dr. Karen Reivich is an internationally recognized expert in the fields of resilience, depression prevention, and Positive Psychology. She has more than 30 years of experience developing and delivering resilience and Positive Psychology programs for educators and their students, U.S. Army soldiers, health care professionals, a professional sports organization, corporate audiences, and more. As lead instructor of the Penn Resilience Program, she has worked with more than 10,000 participants.

Dr. Reivich's scholarly work focuses on helping parents, educators, and leaders to promote resilience and well-being in adolescents and adults. For 20 years, she was a Co-Principal Investigator of several research studies of the Penn Resilience Programs funded by the National Institute of Mental Health and the U.S. Department of Education. Dr. Reivich has published extensively in academic journals and edited books in the areas of Positive Psychology and resilience. Her scholarly publications have appeared in academic journals including Psychological Science, Journal of Early Adolescence, School Psychology Quarterly, Journal of Abnormal Child Psychology, and Journal of Consulting and Clinical Psychology. She is a co-author of two books: The Optimistic Child and The Resilience Factor.

Dr. Reivich and her work have been featured in a variety of news and media outlets including Oprah, Prime Time Live, The Early Show, ABC Nightly News, The Big Idea with Donny Deutsch, Parenting Magazine, Shape Magazine, The New York Times, US News and World Report, Better Homes and Gardens, The Boston Globe, The Philadelphia Inquirer, USA Today, and The Orlando Sentinel.
Karen's Photography

Article about Karen's Photography

Online Resilience Course

HBR Article: Why You Need to Protect Your Sense of Wonder

Article: Five Lessons COVID-19 Has Taught Us About Resilience

Podcast: Bolster Your Resilience

Podcast: NPR Forum, Meeting the Challenges of Midlife

Podcast: Building Resilience and Well-Being, with Karen Reivich

Video: Resilience Strategies for Public Safety

Video: A Conversation with Dr. Karen Reivich on Resilience

Video: Dr. Reivich Discusses the Penn Resilience Program

Learn about the Penn Resilience Program

Submit Inquiry about the Penn Resilience Program

Book: The Resilience Factor, by Karen Reivich and Andrew Shatte

Book: The Optimistic Child, by Martin Seligman, Karen Reivich, Lisa Jaycox, and Jane Gillham