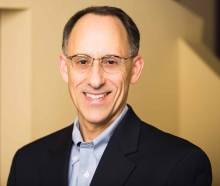 Resilience Training Client Development
Peter Schulman is Executive Director of the Positive Psychology Center at the University of Pennsylvania and a graduate of the Wharton School at Penn (W1983). He oversees all Center activities, including research grants, Penn Resilience Programs, Positive Psychology Programs, websites, and conferences. His operational responsibilities include oversight of project management, staffing, and financial and contract management. 
Mr. Schulman has worked with Dr. Martin Seligman since 1983 and has directed several large-scale, longitudinal, federally-funded research grants on the prevention of depression using a cognitive-behavioral intervention. He has written twelve scholarly publications and book chapters. Since 1990, he has played a lead role on the research, development and large-scale dissemination of the Penn Resilience Programs and Positive Psychology Programs for various organizations, including schools, health care organizations, the U.S. Army, law enforcement, corporations, government, among others. More than a million people around the world have attended these programs. Mr. Schulman was recognized as a 2012 Model Supervisor Finalist in the Penn Models of Excellence Program.